As the end of my medical leave approaches I find that, even though my skin isn't at 100%, I'm looking forward to going back to work. Sort of.
I had thought that while I was off the hours I spent stuck at home would be productive ones.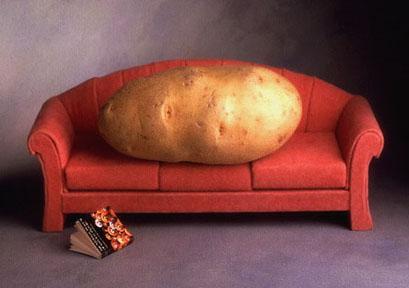 I mean, what else could I do while zoned out on painkillers, antibiotics and whatever else the doctors threw at me.
Sure, I could sit on the couch and give my impression of a potato my best shot but, how much fun is that?
Not being one to laze about for very long, I pulled out my nearly half done manuscript and decided to work on it. That was as far as I got.
I think I may have put in 1000 new words in the two months since then. On the other hand, I have written over 7000 words for the blog that I am a partner in with 12 other writers.
That counts for something, right?
On September 1, 2010, Everything Erotic went live on Amazon Blogs for Kindle and it's been a fantastic experience. I've posted two instalments of The Erotic Adventures of Sidony Tassen, one short story titled Hooked and collaborated on two posts in a series titled Tempted by Fate with Heather Hughes. So far we're sitting in 17th position out of ten THOUSAND blogs and we've released an anthology of all the posts from September in eBook format on Amazon as well. Another one is due out at the beginning of November for the October posts. Finally, my writing has turned into a profitable endeavour. The profits are minimal right now, but it's something!
In case anyone has missed it because they haven't been following me on Twitter or Facebook… The artwork for Possession is Nine Tenths – Ardeur came
in and it's frickin' awesome! Isn't she pretty? I love it. The magnificent Mel Gannon put it together for me and I can't ever thank her enough. Anyone needing cover art.. go find this amazing Aussie.
As for where you can find Possession is Nine Tenths – Ardeur, the entire book is available for purchase on Smashwords, Amazon, Barnes & Noble, Sony eReader, Apple iBooks and Diesel eBook Store.
I've spent the last few days doing one last edit to fix a few flaws. I've promised myself this is the last one because the other projects I have started have fallen to the wayside and are in need of attention. PiNT- Ardeur has had 10 months of my attention and needs to step aside (in terms of edits and whatnot) so that I can focus on other things like writing more and promotion/marketing.
The wonderful Renee Vincent has offered to interview me on her blog in March 2011 and I'm excited for the opportunity. Now, to find other individuals who are willing to give an indie author the same chance as Renee has given me. Cross your fingers.
Until next time!
---